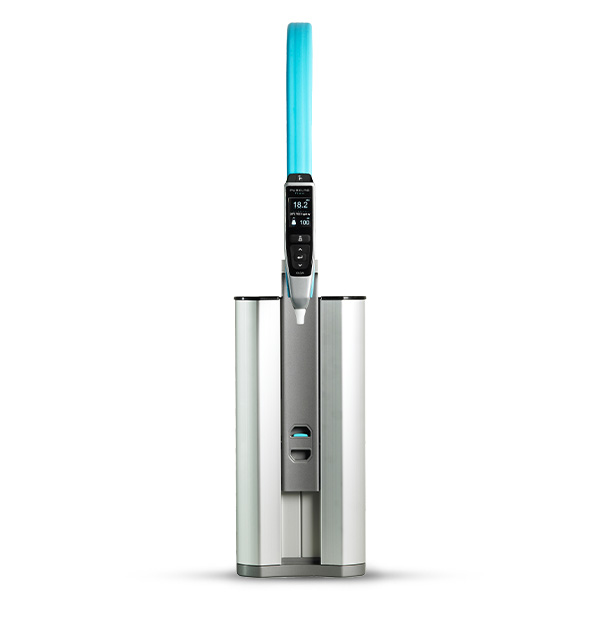 Simple, elegant water dispenser and deionization system for your distribution.
Features
Customized settings Be in control of your PURELAB flex by customizing the settings to suit your application.
Simplicity Simple to insatall, operate and maintain with prioritized information displayed at all times (system status, alarm) for absolute confidence as you dispense.
Data capture Download all of the data to USB for system performance validation and software updates.
Easy to Use Ergonomic design with features including auto volumetric dispense and height adjustability.
Space Saving Space saving and compact dispenser which can be placed on the bench or wall mounted.
Ideally suited for: Dispensing, With DI pack: General lab, Applications requiring type 2 water

Simplicity and Elegance. The best dispenser for your distribution system
The PURELAB flex 1 is designed to dispense water when it is connected to a reservoir or distribution loop.
This system works as a dispenser as well as a simple deionization system.

Tech Specs
| PRODUCT SPECIFICATIONS | PURELAB FLEX 1 | PURELAB FLEX 1 (WITH PURIFICATION PACK) |
| --- | --- | --- |
| Dispense flowrate | Up to 2.0 l/min | Up to 2.0 l/min |
| Inorganics (resistivity at 25°C) | As per feedwater | 18.2 MΩ.cm |
| Organics (TOC) | Dependant on feedwater | Dependant on feedwater |
| Bacteria | <0.1 CFU/ml * | <0.1 CFU/ml * |
| Bacterial endotoxin | N/A | <0.001 EU/ml * |
| pH | Effectively neutral | Effectively neutral |
| Silica | <2 ppm | <2 ppm |
| DNase | N/A | N/A |
| RNase | N/A | N/A |
| Daily usage (max) | 100 l/day | 100 l/day |
| Daily usage (min) | 1 l/day | 1 l/day |
| Delivery flow rate | Up to 2 l/min | Up to 2 l/min |
| PRODUCT SPECIFICATIONS | PURELAB FLEX 1 | PURELAB FLEX 1 (WITH PURIFICATION PACK) |
| --- | --- | --- |
| Dispense flowrate | Up to 2.0 l/min | Up to 2.0 l/min |
| Inorganics (resistivity at 25°C) | As per feedwater | 18.2 MΩ.cm |
| Organics (TOC) | Dependant on feedwater | Dependant on feedwater |
| Bacteria | <0.1 CFU/ml * | <0.1 CFU/ml * |
| Bacterial endotoxin | N/A | <0.001 EU/ml * |
| pH | Effectively neutral | Effectively neutral |
| Silica | <2 ppm | <2 ppm |
| DNase | N/A | N/A |
| RNase | N/A | N/A |
| Daily usage (max) | 100 l/day | 100 l/day |
| Daily usage (min) | 1 l/day | 1 l/day |
| Delivery flow rate | Up to 2 l/min | Up to 2 l/min |

Consumables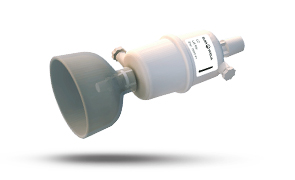 Impact of Overuse
Potential recontamination of purified water and reduced flow rates
Impact of Overuse
Weakly bound ions are released back into the water reducing resistivity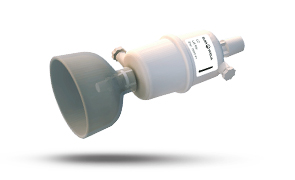 Impact of Overuse
Potential recontamination of purified water and reduced flow rates
Impact of Overuse
Weakly bound ions are released back into the water reducing resistivity

FAQS
What is a PURELAB flex 1 system?

PURELAB flex 1 is a dispensing and monitoring system. When connected to a reservoir or a distribution loop, it delivers water without purifying it. It does not have a UV lamp.

What are the benefits of the PURELAB flex 1 system?

PURELAB Flex 1 offers customers a range of benefits from being intuitive and easy to use , easy to install and commission, flexible dispensing which allows customers to dispense water into a range of container sizes and shapes. It uses minimal lap space, is easy to operate and maintain and can be used for a wide range of lab applications. Other benefits includes real-time TOC monitoring which is calculated every 2-3 seconds to give a real time TOC reading for maximum assurance; water quality monitoring up to the point of dispense to help ensure valuable parameters are provided at all times and inbuilt periodic recirculation to help minimise biofilm build up which can affect some applications.

What type of applications are suitable for water dispensed from the PURELAB Flex 1 system?

Ideally suited for: Dispensing, With DI pack: General lab, Applications requiring type 2 water