MEDICA® R200 - Designed to supply CLRW grade water to multiple analyzers on a loop
MEDICA-R 200
The compact solution for distribution loops
The MEDICA-R200 feeds large automated diagnostic analyzers with a guaranteed high output and bacterial specification. This system provides CLRW standard (formally CLSI Type 1) pure water to multiple clinical analyzers across several laboratories making it highly flexible and reliable.
MEDICA R-200 features a unique, award-winning design incorporating a very high output water purification system, large 350-liter storage reservoir and distribution loop pump. By integrating the reservoir and water purification components into one compact system the MEDICA R-200 is very cost-effective to install and maintain on a loop system.
Compatible with multiple and large clinical diagnostic analyzers which require up to 21 liters per minute of CLRW standard water
Can feed multiple analyzers on a distribution loop and across several laboratories
A bypass loop for the continual supply of compliant water in emergency situations.
Compact footprint due to its integrated wrap around 350-liter reservoir.
Low running and consumable costs
Single system design makes it easy to project plan and install
Full service and validation support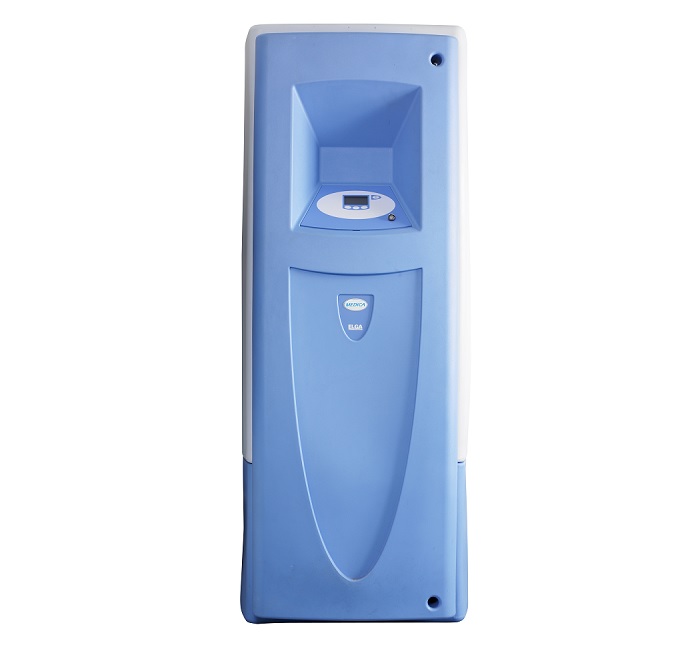 Ideally suited for:
Large clinical labs with many different analyzers linked by an automated track
A hospital lab with large standalone clinical analyzers in different labs and on different floors
Pure water provision for other applications such as a glass washer as well as for clinical analyzers
A laboratory with a need for a large central water system with an economy of operation
| Product Specifications | MEDICA R200 |
| --- | --- |
| Dispense flowrate | |
| Inorganics (resistivity at 25°C) | >10 MΩ.cm * |
| Organics (TOC) | <30 ppb * |
| Bacteria | <10 CFU/ml ** |
| Bacterial endotoxin | |
| pH | |
| Particles | 0.2 μm filter |
| Silica | <0.05 mg/l |
| DNase | |
| RNase | |
| Daily usage (max) | |
| Daily usage (min) | |
| Delivery flow rate | 18-21 l/min |
* With Ion-exchange cylinder installed (Nuclear or Hypex grade resin)
** Subject to correct operating and maintenance procedures

Composite Vent Filter
Life expectancy
12 months
Impact of Overuse
Increase in airborne contaminants and potential recontamination of purified water
Ultra-micron filter
Life expectancy
14 months
Impact of Overuse
Reduced flow-rates and bacterial specification will not be maintained

UV Light
Life expectancy
12-18 months
Impact of Overuse
Uncontrolled bacterial contamination and TOC levels are not reduced

Reverse Osmosis Module
Life expectancy
24-36 months
Impact of Overuse
High levels of organics and inorganics remain in the water reducing the functional life of the DI pack

Pre-treatment
Impact of Overuse
Chlorine, chloramine and organics remain, increasing the burden on downstream consumables which will need more frequent and expensive changes
To learn more about the benefits of the MEDICA Range, contact us and we'll put you in touch with one of our Approved Partners and Lab Water Specialists.
Find An ELGA Approved Partner & Laboratory Water Specialist Today!
Overall, ELGA's service and technical support are an excellent match for our own operations in South Asia. It's a very good partnership, with a helpful and dedicated team, and it is good to know that they are always on hand if a customer has a problem. We have complete peace of mind in the MEDICA systems and the ELGA team; our in-house engineers know they can depend on the systems to perform reliably, and the customer receives a more efficient, comprehensive service.
Brian Hilton
Regional Service Manager for South Asia
Abbott Laboratories
Why Choose ELGA?
Expertise We have installed thousands of water purification systems globally, and our service engineers will apply their expertise to the installation, validation and maintenance of your system
Service Excellence Every MEDICA comes complete with one extra feature – First class service and support wherever you are in the world
Training "Hands-on" operation training is arranged to ensure optimal system performance and minimize the risk of an interrupted workflow