MEDICA Pro-LPS - Purifying pre-treated water from a loop or central supply
MEDICA Pro-LPS
The cost-effective choice for labs with pre-purified water
Purifying pre-treated water from a loop or central supply.
Designed to supply CLRW grade water to large or multiple clinical analyzers.
The MEDICA Pro-LPS is the ideal choice when high purity water is required from a pre-treated feed.
Dispensing CLRW grade water at rates of up to 4 liters/min the Pro-LPS can supply a mix of clinical analyzers throughout one lab.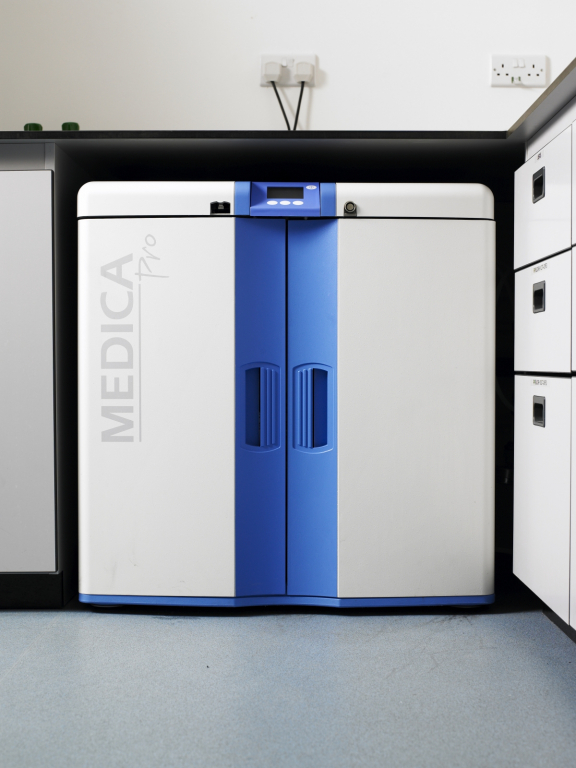 Ideally Suited for:
Multiple clinical analyzers installed in a lab with an existing ring main system that is not of sufficient quality to meet CLRW specification
Variable water specifications across a laboratory with a central system providing the general grade water and the MEDICA Pro-LPS polishes water to meet the specific specialist analyzer needs
Frequently Asked Questions (FAQs)
What is the MEDICA product range?
The MEDICA product range is specifically targeted at the Clinical diagnostics market. The MEDICA will either directly feed (analysers which require a direct feed) or fill via a dispense gun the analyser with water that meets the recommendations of the Clinical Laboratory Standards Institute (CLSI).
What is the MEDICA Pro LPS?
The MEDICA Pro LPS is a product which has been designed for sites which have pre-treated water. The LPS does not have Reverse Osmosis filters so needs pre-treated water before it purifies it to the CLSI guidelines.
Why would I buy the MEDICA Pro LPS?
If you have a pre-treated RO ring main in your building you may choose not to have one on your system. This will reduce your long term running costs.
How often do I need to change my consumables?
Consumables life depends entirely on the quality and volume of water being fed into the MEDICA product. Higher volumes and lower quality water will increase consumables usage. 
| Product Specifications | MEDICA Pro LPS |
| --- | --- |
| Inorganics (resistivity at 25°C) | >10 MΩ.cm |
| Organics (TOC) | <30 ppb |
| Bacteria | <1 CFU/ml |
| Particles | 0.05 μm |
| Silica | <0.05 mg/l |
| Delivery flow rate | Up to 4 l/min |
To learn more about the benefits of the MEDICA Range, contact us and we'll put you in touch with one of our Approved Partners and Lab Water Specialists.
Find An ELGA Approved Partner & Laboratory Water Specialist Today!
Very sturdy and rugged. Have multiple purification technologies to provide you with pure water. Compact size with all modules built in one. The preferred choice for our Diagnostics labs. 
Tejas Mehta
Select Science Reviewer
Synergy Medical Systems LLP
Why Choose ELGA?
Expertise We have installed thousands of water purification systems globally, and our service engineers will apply their expertise to the installation, validation and maintenance of your system
Service Excellence Every MEDICA comes complete with one extra feature – First class service and support wherever you are in the world
Training "Hands-on" operation training is arranged to ensure optimal system performance and minimize the risk of an interrupted workflow