Features
The PURELAB flex 3 is the ultimate system providing tap to ultrapure water in one single unit, and is uniquely designed around your needs.  It combines ease of use with the accurate delivery of pure water.  The flexible modular system can be configured to deliver the quality of water you need for your applications. PURELAB flex 4 gives you the additional benefit of operating independently from a tap in temporary locations thanks to the manual-filling capability. 
PURELAB flex 3 & PURELAB flex 4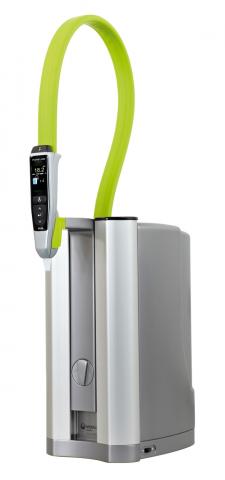 Space saving design

The compact unit can be placed on the bench or can be wall mounted and has an integrated 7 liter reservoir filled by a 10 l/hr RO membrane, ensuring that water is always reliable.

Fully recirculating

Ensuring the highest microbial purity and guaranteeing pure water at the point-of-use as recirculation of the water occurs from the reservoir right to the point of use

Easy to maintain

The front doors ensure easy access to the consumables, making them quick and easy to replace

Flexible dispenser

The intuitive dispenser offers a clear display of the water purity for absolute confidence as you dispense, while providing multiple dispense positioning

Simple easy installation

Designed for simple easy installation

Real-time TOC monitoring

Provides complete confidence in organic purity and clear display at all times. The final quality sensor is placed at the entry of the flexible dispenser giving you peace of mind.

Data capture

Data capture via USB for system performance validation and software updates
PURELAB flex 3 & flex 4 hose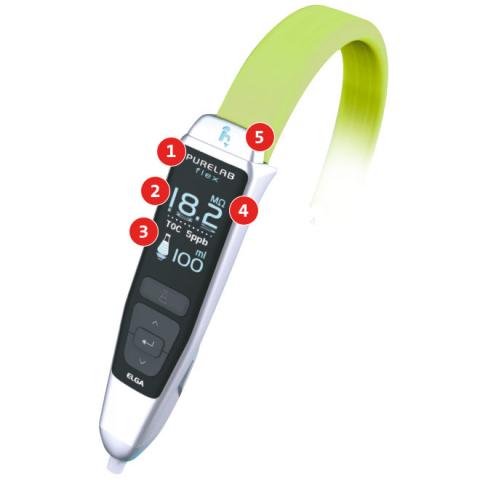 Ergonomic handset design

Intuitive to use, ergonomic handset design

Clear water purity display

Clear water purity display for absolute confidence as you dispense

Realtime TOC monitoring

Realtime TOC monitoring for critical analytical applications

Prioritized information

Prioritized information shown at all times (system status, TOC, alarm)

Flexible dispensing in four different ways

Variable flow – drop by drop or up to 2 liters per minute

Autovolume dispense from 50ml to 60 liters and repeat dispensing

Hands free with optional foot pedal

Locked dispense for glassware filling
Tech Specs
| Product Specifications | PURELAB flex 3 | PURELAB flex 4 |
| --- | --- | --- |
| Dispense flowrate | Up to 2.0 l/min | Up to 2.0 l/min |
| Inorganics (resistivity at 25°C) | 18.2 MΩ.cm | 18.2 MΩ.cm |
| Organics (TOC) | <5 ppb | <5 ppb |
| Bacteria | <0.1 CFU/ml | <0.1 CFU/ml |
| Bacterial endotoxin | <0.001 EU/ml | <0.001 EU/ml |
| pH | Effectively neutral | Effectively neutral |
| DNase | <20 pg/ml | <20 pg/ml |
| RNase | <0.002 ng/ml | <0.002 ng/ml |
| Daily usage (max) | 10 l/day | 10 l/day |
| Daily usage (min) | 1 l/day | 1 l/day |
| Delivery flow rate | | |
Case studies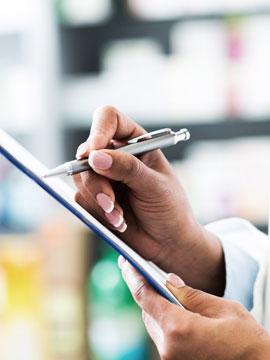 Review us on

Elga -purelab FLEX is very good for milli water use for different applications like molecular biology or microbiology as well as analytical chemistry. Its very user friendly, and 0 to 7 ltr filled within 10-15 minutes.
The PURELAB flex is a very successful system both technically and aesthetically. We are very satistfied with our choice. The compact design, easy operation and maintenance are ideal. The PURELAB flex is ready for use very quickly after it is switched on. It has a good flow rate with a 0.2µm point-of-use-filter fitted to the dispenser. It does not cause any problems to our daily requirements.
Dieter Dirk
Senior Teacher & Head of Laboratory
Olsberg Vocational College, Germany
Consumables

Composite Vent Filter
Life expectancy
12 months
Impact of Overuse
Increase in airborne contaminants and potential recontamination of purified water

DI Pack
Impact of Overuse
Weakly bound ions are released back into the water reducing resistivity

Point-of-use Filter
Impact of Overuse
Potential recontamination of purified water and reduced flow rates

Reverse Osmosis
Life expectancy
24-36 months
Impact of Overuse
High levels of organics and inorganics remain in the water reducing the functional life of the DI pack

UV Light
Life expectancy
12-18 months
Impact of Overuse
Uncontrolled bacterial contamination and TOC levels are not reduced