The PURELAB Option-S and PURELAB Option-R provide Type II+/ Type II pure water on demand with a wide range of flow-rates to suit your needs. Applications range from glassware washing and the feeding of ultrapure water systems to cell culture and media preparation. The PURELAB Option-R provides additional bacteria and inorganic quality for your more critical applications.
The popular choice for everyday laboratory work, with flow rates from 7 to 60 liters per hours.
The PURELAB® Option-S/R is ideal for multiple purification technologies in combination with recirculation  feature producing high-quality general laboratory grade water of double distilled quality or better
Delivers market leading microbial performance. In addition to simple sanitization and composite vent filtration, the PURELAB Option-S/R system is the only fully recirculating Type II+ pure water system on the market, ensuring high specification water
Features 'Reverse Osmosis feed optimized' resin mixes to increase the ion exchange capacity of consumables and minimize running costs
Quick and easy sanitization and replacement of consumables to reduce maintenance time
PURELAB Option systems are designed to be easy to access whether wall or bench mounted with a convenient dispense tap. They can be used with our wrap-around reservoirs to save space whilst optimizing purity
PURELAB Option-R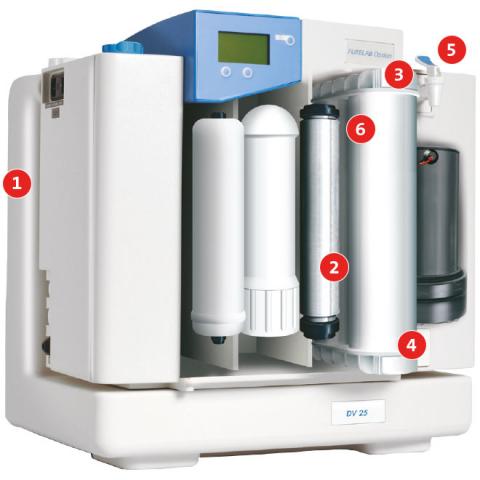 Space-saving wraparound reservoir

Space-saving wraparound reservoir with smooth sides and vented filtration for optimized water purity

Fully recirculating UV

Fully recirculating UV ensures the highest microbial quality

Deionization purification

Deionization purification (ion-exchange) cartridge

Height adjustable point-of-use dispense tap

Height adjustable point-of-use dispense tap for choice of wall or bench mounting

Full recirculation

Full recirculation guarantees water quality at point-of-use
| Product Specifications | Option-R 7 | Option-R 15 |
| --- | --- | --- |
| Dispense flowrate | 1.0 l/min-nominal (less with POU filter | 1.0 l/min-nominal (less with POU filter) |
| Inorganics (resistivity at 25°C) | 10 to >15 MΩ-cm | 10 to >15 MΩ-cm |
| Organics (TOC) | <20 ppb | <20 ppb |
| Bacteria | <1 CFU/ml | <1 CFU/ml |
| Bacterial endotoxin | - | - |
| pH | Effectively neutral | Effectively neutral |
| Particles | Optional 0.2µm POU filter | Optional 0.2µm POU filter |
| Silica | 30 ppm | 30 ppm |
| DNase | - | - |
| RNase | - | - |
| Delivery flow rate | | |
Learn More

To learn more about the benefits of PURELAB Option-S/R or any other product, contact us and we'll put you in touch with one of our Approved Partners and Lab Water Specialists.

Find An ELGA Approved Partner & Laboratory Water Specialist Today!
Why Choose ELGA?
Trusted By Labs around the World
Renowned For Excellent Quality and Reliability
First Class Service, Support & Training