ELGA ensures largest medical diagnostic lab (DASA) in Latin America is working 24/7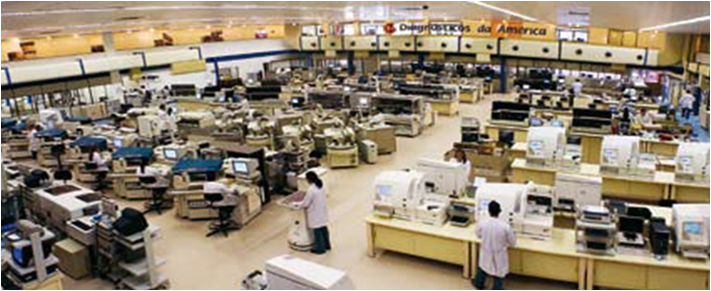 Diagnósticos da América (DASA) is the largest medical diagnostic company in Latin America, fifth largest in the world with 321 branches across Brazil catering for 55,000 patients daily. DASA is CAP (College of American Pathologists) certified laboratory. ELGA needed to supply high volume consistent quality CLRW standard pure water to high throughput clinical laboratory analyzers.

The number of clinical analyzers in their São Paolo laboratories grew to cope with the growing demands of tests, and DASA wanted to install more MEDICA® systems but were challenged due to lack of available space.

In order to solve this problem, all the MEDICA systems were centralized into one specific and separate area. The MEDICA-R 200 system was chosen due to its capability of producing 200 l/hr purified water (CLRW standard) and other added benefits including 350 liter internal reservoir, easy installation and operation. The solution was to install four MEDICA-R 200 water purification systems which have been designed specifically to feed high throughput clinical analyzers. The four MEDICA-R 200 systems are capable of producing and distributing a total 800 l/hr of CLRW standard water in a closed recirculating distribution loop, directly feeding into to several clinical analyzers (Biochemistry, Hormonology and Immunology).
"The installation went smoothly, and the MEDICA-R 200 is easy to operate and maintain. The improvement to the layout eased the circulation of personnel, work flow as well as improved quality assurance for the analytical processes." Chemist Claudette Magalhaes Motta – Process Manager; Biodoctor Audrei Bertini – Process Manager (Automation)